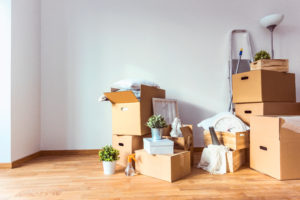 Guest article by Seth Murphy, Contributor, PapaDIY.com
No one ever said packing your life up would be easy. But, thanks to advances in today's technology, we have apps and online services that can take some of the mayhem out of moving day.
For the frazzled mom …
If your move involves road travel and younger children, there are a number of ways to keep them entertained along the way. The Plates Free Family Travel Game offers young travelers an interactive experience searching for license plates of vehicles from different states. And since we all know that being in the car with the kids means they're going to ask to go to the bathroom every 30 minutes, Charmin has you covered with the SitOrSquat restroom finder app.
For the pet parent …
Now that we've got the kids covered, it's time to think about your roaming Rover. He'll need to get out and stretch his paws, too. This is where Park Bark comes in handy. Park Bark allows you to find dog-friendly parks along your route. Once you arrive at your new location, you may want to consider using a service like Rover.com to find a reputable pet sitter for your dog for a day or two or leaving him at a nearby doggy daycare while you unpack. While you're getting to know the area, you can also hire an experienced dog walker to guide you and your furry friend around the new neighborhood. Rover's network is extensive, so you'll have no problem finding the right match no matter your dog's temperament, breed, or energy level.
For the bare-home buyer …
If you're moving across the country and don't want to take your furniture with you, you'll need to quickly outfit your new digs. Coaster Fine Furniture offers affordable bedroom, dining room, and living room furniture that can be delivered to your door at your convenience.
For the no-home having adventurer …
Maybe you want to wait to check out the neighborhood … or maybe you like to live on the wild side. Regardless of the reason, if you haven't secured housing before you hit the road, Zillow may be your best bet. This service allows you to search for homes, connect with a real estate agent, calculate your mortgage, or find a rental all from the comfort of your phone.
For the hungry, refusing-to-cook-for-the-first-week mover …
If we're all honest, nobody really wants to fire up the oven on any night, especially when half your utensils are stuck in a brown box at the bottom of a pile in the garage. But we all have to eat and we all want to make sure we aren't ordering takeout from the worst place in town. Enter Yelp. Whether you're looking for pizza delivery, Mexican, or want to down a cold drink while checking out the nightlife, Yelp delivers with real customer reviews and an interactive map.
Tips and tricks for the long haul …
If you've never moved more than a few blocks, you're in for quite a surprise. Long-distance relocations are very different from crosstown treks. Here are three things you can do to prevent pandemonium:
– Get at least three estimates from reputable movers. Quotes can vary significantly so take the extra time to compare pricing and included services.
– Downsize–get rid of anything that you haven't used in the last year that doesn't hold sentimental value. The more stuff you have, the more it's going to cost, and the more stress you're going to feel packing and unpacking.
– Label everything. Use colored duct tape to mark boxes according to which room they belong.
Remember, no matter how many apps and labeled boxes you have, moving day means making last-minute decisions and adjusting your schedule for unexpected issues. Give yourself plenty of time and don't stress if things fail to go according to your master plan.