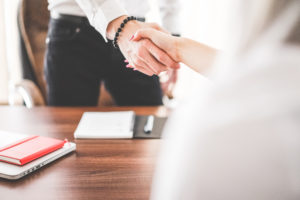 Nancy Braun, Advisory Council Chairperson and Broker/Owner of Showcase Realty, shares best practices and advice for running a growing business. Her recommendations will help you reduce liability and support the expansion of your company.
Preventative Industry Practices to Keep You Out of Court
Running a small business is more than bringing in the business—owners are typically the rainmakers and visionaries and not the implementors. Dotting our i's and crossing our t's is often painful to us, and small business owners frequently learn what they should have been doing the hard way. When you have a disgruntled client, independent contractor, or previous employee sue you, it is too late to get your ducks in a row. The following critical preventative practices will help keep you out of court and focused on what you love—business development.
Use a Payroll Service
A payroll service should save you time and money and reduce the chances of employee issues or litigation. The IRS penalizes one out of every three business owners for payroll errors. These services ensure tax payments are submitted correctly and on time.
Many payroll services include a time clock. Overtime is a big issue—if you keep track of your employee hours (even if exempt), you can avoid double damages later. Many also have an HR consult option. The following is a brief list of important HR considerations:
– It is critical to have job offers and job descriptions in writing.
– Conduct and document progressive discipline so everyone involved knows what is taking place and why.
– Keep a record of reasons for termination and engage in cross-training so you are prepared when certain responsibilities are no longer taken care of.
– Always ensure you are employing non-discrimination practices in all facets of your business.
With a payroll service, your employees will appreciate direct deposits and consistent pay. It's also important that you make sure to conduct background checks for all employees to avoid any unnecessary liability.
Universal Documentation
Have an employee handbook and company policies and procedures. A payroll service or an Attorney in Employment Law can assist you with this. Here is a partial list of some of the benefits:
– Consistent and fair treatment of all employees.
– If you go to court this will be your first line of defense
– Proof you have provided your team with what is expected and best practices
Focus on having a strong company vision, core values, and effective organization meetings. Most of my employee interviews involve answering the applicant's lead question: "What is our culture?" Employees today are motivated by knowing and being part of the company vision and core values. An excellent source for how to establish your company vision, core values, and run effective meetings is Traction by Gino Wickman.
Insurance
You must also make sure you have good insurance coverage. Having a thorough, experienced business insurance representative is vital. Make sure your agent represents other small businesses. Most basic coverages need to have additional riders added on to give you the best coverage. Ask your agent to review all of the optional riders and provide his/her recommendations.
Make sure your liability insurance covers automobiles and make sure your E&O insurance includes property management coverage. Whenever you get a new policy from a new company, be sure it includes prior events. Workman's Comp is critical, and you must always get waivers signed by all independent contractors and agents.)
All employment agreements must be prepared by an attorney. Key features to include are non-compete, confidentiality, and non-disparagement agreements. Also, make sure to offer severance agreements in writing and always keep these on record.
Running a Growing Business
Your company vision, core values, and effective organization meetings are very important in making employee's feel valued and promoting a sense of belonging that will help you grow your business. For growing businesses, it's critical to have repeatable systems in place. To help ensure this is the case, use a tasking software and a great CRM, have training manuals, and cross-train your team.
Your accountant should have experience representing small businesses. They should provide advice and best practice suggestions. The Small Business Administration is a good source for more business management advice and funding. They have free seminars and SCORE can provide you with an experienced retired business owner as your free advisor.
Cybersecurity is more important than ever. Ensure you have training and systems in place to protect and prevent malware and viruses. Merely having an anti-virus program installed on your computers is not sufficient. Anyone that uses email or the web on your computers can invite perpetrators. I have personally experienced malware and know of other members who have as well. Unfortunately, this crippling experience is all too common. It will shut you down for days or longer and costs thousands of dollars to fix.
My last piece of advice is to keep ample notes of all your conversations in person and on the phone. This information is a good start to ensure your company is set up professionally and proactively. It's best to invest your money and time to implement these measures so that when you have an issue, you can reference the procedures and policies already in place—and remember, it's important to always do your research and keep improving.